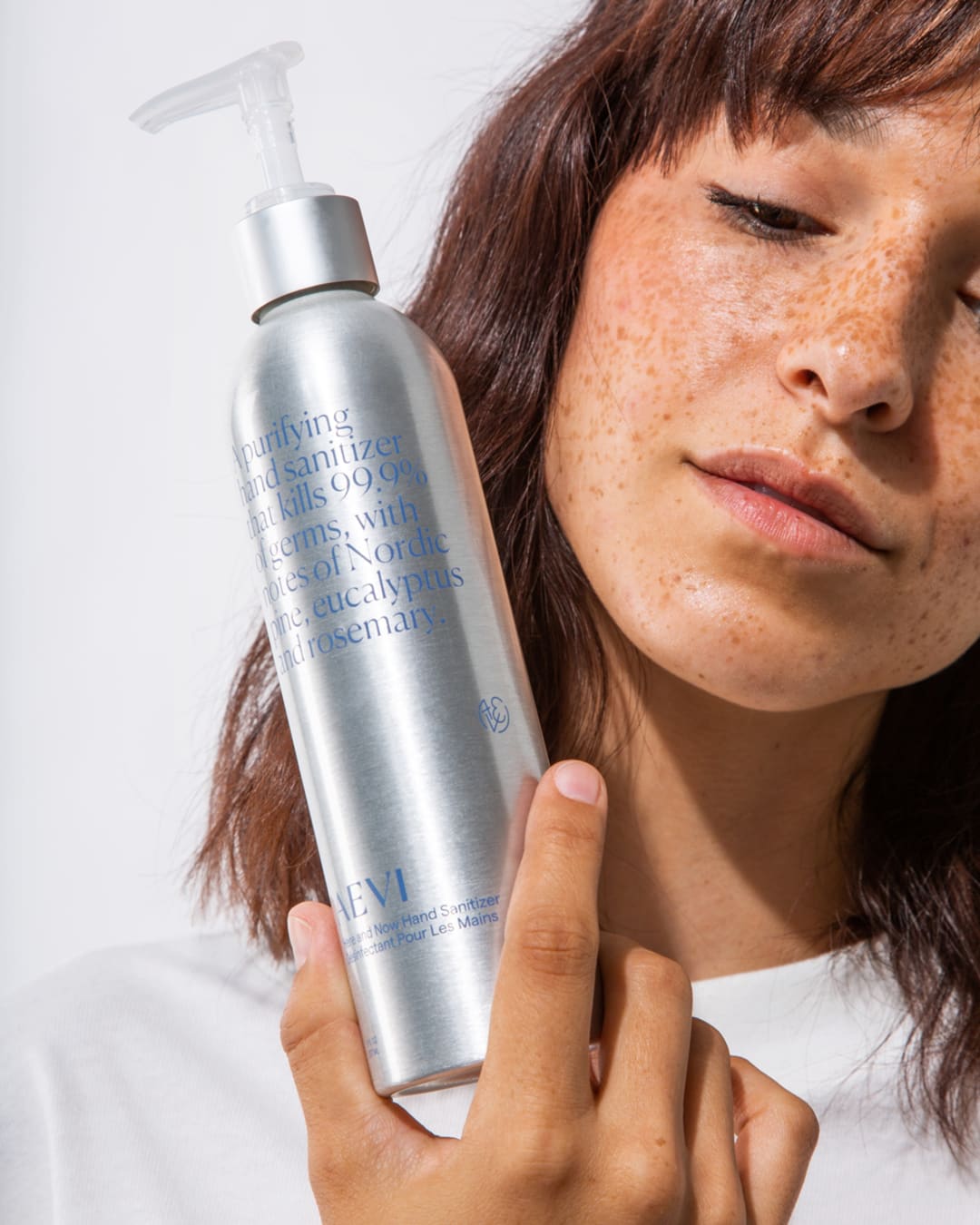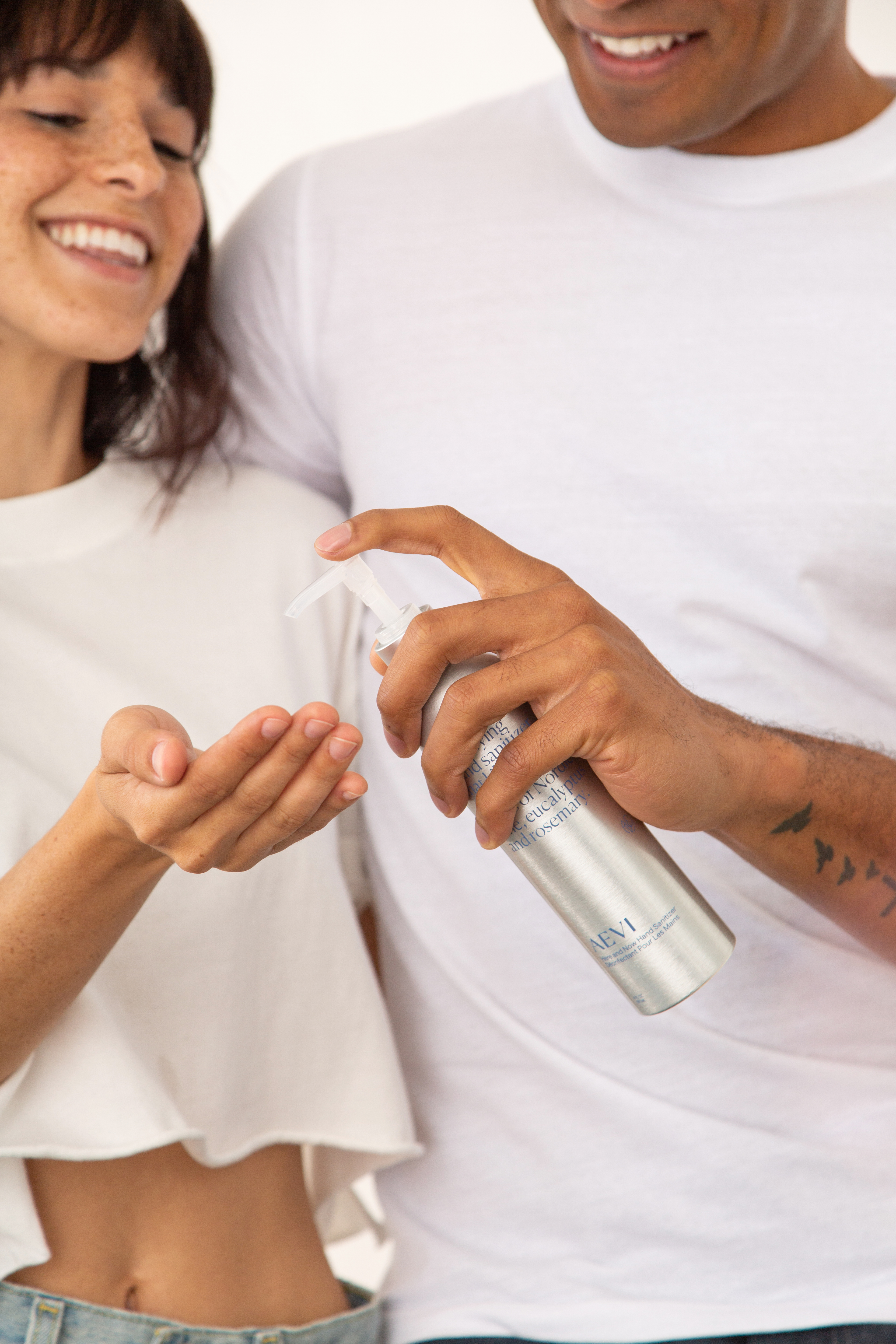 Clean Hand Sanitizer
Consider this your peace of mind in a bottle. Our pure, light-weight hand sanitizer kills 99.9% of germs & calms the senses with notes of organic Nordic pine, eucalyptus, and rosemary.
Please note, our Clean Hand Sanitizer only ships within the United States.
Good to Know
How to Use: Apply all over your hands and allow to dry. Do not rinse off.
70% plant-based ethanol from a sustainable source.
WHO Organization compliant and FDA registered.
Our Pure Ingredients
Alcohol (70% Ethyl Alcohol), Aqua (Purified Water), Glycerin (Vegetable),
Aloe Barbadensis Leaf (Aloe Vera) Juice Powder*, Pinus Sylvestris Leaf
(Nordic Pine Tree) Oil, Eucalyptus Globulus Leaf Oil*, Rosmarinus Officinalis
Leaf (Rosemary) Oil, Linalool, Limonene.
Sustainable Packaging
Packaged in an infinitely recyclable aluminium container, so we can stay safe while reducing our footprint.
Refills available with a cap only :)
Inspired by Nordic Nature
A blend of three evergreens:
Nordic Pine, Eucalyptus
and Rosemary.
WHO Organization Compliant
70% pure, plant-based
ethanol for safe sanitization,
from a sustainable source.
Therapeutic Ingredients
Aloe vera, glycerin and
wild-harvested essential oils.
Clean Feel
Light-weight, skin-kind
non-sticky formula.
Green Scent Profile
An uplifting sensory escape
into nature, wherever
you may be.
Safe & Sustainable Packaging
The aluminium of this bottle
is 100% recyclable for minimal
environmental impact.
70% Ethyl Alcohol
Also known as ethanol, or bio-ethanol
Plant-derived of the highest grade, sustainable and clean. At 70% potency, it is effective in killing bacteria, fungi and viruses, and as it dries more slowly it allows for longer kill time.
Glycerin
A natural emollient that improves the product's effectiveness on the skin for smoother, broader coverage. Additionally, (combined with ethyl alcohol it) allows for a slower dry time to better help fight pathogens.
3
INCI – Aloe Barbadensis Leaf
Aloe Vera
With soothing, anti-inflammatory properties, plus polysaccharides that improve moisture in the skin.
4
INCI – Pinus Sylvestris Leaf
Nordic Pine Essential Oil
Found in nature's fresh and wild forests, Nordic Pine has cleansing properties and a calming effect.
5
INCI – Eucalyptus Globulus Leaf
Eucalyptus Essential Oil
An earthy and uplifting evergreen, it helps to clarify the air and clear the sinuses. The high eugenol content means this too has antimicrobial properties.
6
INCI – Rosmarinus Officinalis
Rosemary Essential Oil
A kitchen classic with its age-old medicinal properties, it helps to soothe the mind and restore the body.
Purified Water
Straight from the source. We chose clean water instead of any fillers.
Linalool
An organic terpene plant compound that contains antimicrobial and skin-soothing properties.
Limonene
A natural compound occurring in lemon peels with natural insecticide properties.
Nordic Inspired
Hand Sanitizer
Read about why we decided to make a hand sanitizer, our evergreen blend, as well as educational articles about our certifications and more.
Our Journal